Community Awareness:
___________________________________________________________________________________
2018 Dunkin' Donuts Cop On A Rooftop
April 27, 2018
 
Melrose Park Police Department and the Melrose Park Dunkin' Donuts locations are participating in the Cop On A Rooftop!
Show your support at –
912 Winston Plaza on North Ave – and – 2033 N. Mannheim Rd
For the 16th year in a row, law enforcement officers from throughout the state will rise to the occasion and support Special Olympics Illinois atop more than 260 Dunkin' Donuts rooftops on Friday, May 18, beginning at 5 a.m.
Officers hope to top last year's donation total of more than $700,000 from 272 rooftops as they go to new heights to raise awareness and donations for the Law Enforcement Torch Run to benefit Special Olympics Illinois.
Special Olympics athletes and their families and representatives from Chicago's major sports teams are among the special guests who will join police officers and show their support.
In honor of the Special Olympics athletes and law enforcement participating in the rooftop event, Dunkin' Donuts will donate $15,000 to the Illinois Law Enforcement Torch Run.
In addition, each guest who visits a Cop on a Rooftop location that day and makes a donation to the Torch Run will receive a free donut coupon. Guests donating at least $10 will receive a Law Enforcement Torch Run travel mug (while supplies last) and a coupon for free medium coffee. Other items, such as Torch Run T-shirts and raffle tickets, will be sold for various donation amounts. Additional activities will vary by Dunkin' Donuts location.
Dunkin' Donuts also has created a special glazed red and white donut ring depicting Special Olympics Illinois colors. The donut, called "The Champion," will be available at Dunkin' Donuts locations in Chicago and suburbs May 18.
Detective Robbie Peterson of the West Chicago Police Department says "Cop on a Rooftop is
important because it puts the athletes of Special Olympics in the forefront that day across the state of Illinois and gives us, law enforcement officers, an opportunity to interact with our community in a positive manner. My involvement with Special Olympics is truly an honor and another chance to uphold the oath I took when I was hired….to protect and serve." Special Olympics Athlete Becky Cavanagh of Clarendon Hills adds," Eating donuts is my favorite part of Cop on a Rooftop. Then I like talking to Detective Robbie and all the nice people who donate."
A list of all participating Dunkin' Donuts locations will be posted on www.soill.org.
___________________________________________________________________________________
UNOFFICIAL WATER UPDATE NOTICE
April 11 2018
There have been reports of the following notice left at some residencies.
NOTE: This is NOT affiliated with the Village Of Melrose Park.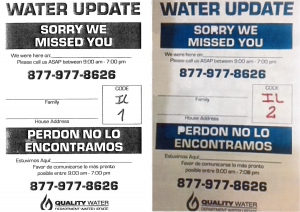 ___________________________________________________________________________________
HALLOWEEN 2017 !
October 2017
Halloween Trick or Treating this year is Tuesday October 31st, from 3pm – 7pm.
Halloween is a highly anticipated night for children, but also one of the most dangerous. According to Safe Kids Worldwide, on average, twice as many child pedestrians are killed while walking on Halloween compared to any other day of the year, and more than 70 percent of accidents occur away from an intersection or crosswalk.
Follow these safety tips to help keep trick-or-treaters safe on Halloween:
   Stay visible – bring flashlights, glow sticks and reflective goodie bags, and add reflective tape to costumes.
   Stay on the sidewalk and off the road when going house to house. If there are no sidewalks, walk facing traffic and as far to the side as possible.
   Cross at street corners using traffic signals or use well-lit, marked crosswalks and never cross the road between parked cars.
   Don't assume the right-of-way. Motorists may have trouble seeing trick-or-treaters.
   Children under 12 should trick-or-treat with and cross streets with an adult.
Following these basic safety precautions can help prevent injuries and save lives.
The Melrose Park Police Department wishes you a happy and safe Halloween!
___________________________________________________________________________________
SUMMER PARKING HOURS HAVE BEEN EXTENDED
September 2017
A quick note to update weekend parking rules.
Parking will be ALLOWED on both sides of the street – Friday 5pm – Monday 9am now until DECEMBER 1st.
These hours do not include the West Melrose nor the Winston Park area.
Remember parking is NEVER ALLOWED on East and West Streets 2am – 6am.
___________________________________________________________________________________
BEWARE UNEXPECTED CHECKS IN THE MAIL – SCAMMERS TARGET ANYONE
June 2017
Take a look at the check that Melrose Park PD received in the mail recently.  The only problem… this is a counterfeit check.
How it Works: 
Scammers send checks in the mail.  They usually ask at the time of delivery, or in a follow-up message/letter that you deposit the check into your account, and then send back a portion of the amount via your own check or wire transfer.  In this case, the scammer sent the check in a United States Postal Service priority mail envelope.
The Problem Is:
The check or money order that you receive and deposit will turn out to be counterfeit.  The counterfeit check will be returned to your bank without funds, and you will be charged the full amount.
Your Account, Your Responsibility:
Any check or money order that you deposit into your bank account is your responsibility.  Should the check be returned as unpaid, you will be stuck with the charges.  Because of federal law, banks must make deposited money available within 1 to 5 business days.  This means that it is possible for a person to withdraw funds from their account after unknowingly depositing a counterfeit check.  It can sometimes take weeks for a check to be returned to your bank as unpaid.  When that happens, the person that deposited the check into their account is responsible for the charges.
What You Should Do:
As the saying goes… "If it seems too good to be true, it likely is."  If you receive a check like this in the mail, you should not deposit it.  You should shred the check so that it isn't mistakenly deposited later.  BEWARE- Scammers can be very persistent.  If you are contacted via electronic communication, block the scammer.  If the scam is on an internet website, report the scammer to the administrator of the site.
If you have any questions contact the Melrose Park Police Department.
Useful Links:
There are numerous ways that people may try and scam you out of your money.  Here are some helpful links with tips on how to avoid being scammed.
https://postalinspectors.uspis.gov/pressroom/schemealerts.aspx
https://postalinspectors.uspis.gov/pressroom/videos.aspx
https://postalinspectors.uspis.gov/pressroom/pubs.aspx
___________________________________________________________________________________
MELROSE PARK POLICE OFFER SAFE DISPOSAL METHOD FOR PRESCRIPTION DRUGS
April  2017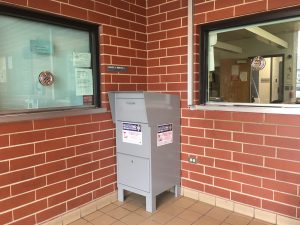 The Melrose Park Police Department has partnered with the Cook County Sheriff's Office to offer residents a safe and convenient method for disposing of unused and unwanted prescription medications. These types of drugs pose a danger within the home. They may become the source of an accidental poisoning or overdose. According to the U.S. Department of Justice, most abused prescription drugs are obtained from friends and family. Disposing of these drugs by throwing them in the trash or flushing them down the toilet may pose health/safety and environmental risks.
In order to provide a preferable alternative for the disposal of these drugs, a secure collection box has been placed in the lobby of the Melrose Park Police Department. "Our residents may now safely dispose of unwanted drugs by simply placing them inside of the collection box in our station," stated Director of Police Sam Pitassi. "This is another way we can assist our residents and promote drug safety within the home," said Pitassi.
The secure collection box is available to residents for unwanted medications 24 hours a day, seven days a week. Please do not place garbage, food, bio-hazardious waste or sharps in the collection box. If you have any questions, you may call the police desk at 708-344-8409.
___________________________________________________________________________________
SUMMER PARKING HOURS ARE IN EFFECT
February 2017
Starting Friday March 31st, summer parking goes into effect. Parking will be ALLOWED on both sides of the street – Friday 5pm – Monday 9am.
These hours do not include the West Melrose nor the Winston Park area.
Remember parking is NEVER ALLOWED on East and West Streets 2am – 6am.
Summer hours are in effect until November 1st.
___________________________________________________________________________________
OFFENDERWATCH NOW COVERING MELROSE PARK
January 2017
Our office is pleased to provide OffenderWatch® for the citizens of Melrose Park. OffenderWatch® is the nation's leading registered sex offender management and community notification tool with hundreds of leading agencies in dozens of states utilizing it. Melrose Park's law enforcement utilizes OffenderWatch® to manage and monitor the whereabouts, conduct and compliance status of the registered offenders in Melrose Park. OffenderWatch® provides the most accurate and timely information available and now this information is available to you!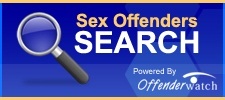 ___________________________________________________________________________________
___________________________________________________________________________________
MELROSE PARK CURFEW HOURS
The curfew hours set for Melrose Park are as follows: Sunday through Thursday 10:00 P.M to 6:00 A.M. and
Friday and Saturday 11:00 P.M. to 6:00 A.M.
___________________________________________________________________________________
Freedom of Information Act
Under the Freedom of Information Act (5 ILCS 140), records in the possession of public agencies may be accessed by the public upon request. The Act defines a public record as, "all records, reports, forms, writings, letters, memoranda, books, papers, map, photographs, microfilms, cards, tapes, recordings, electronic data processing records, electronic communications, recorded information and all other documentary materials pertaining to the transaction of public business, regardless of physical form or characteristics, having been prepared by or for, or having been or being used by, receiced by, in the possession of, or under the control of any public body."
Some records are, however, not subject to release via the FOIA process. These types of records are described under 5 ILCS 140, Sections, 2.15, 7, and 7.5. Some records may also be subject to provisions imposed by other state statutes. The FOIA process for disclosure of information does not supersede other applicable statutory and judicial mandates.