Community Awareness:
___________________________________________________________________________________
Melrose Park Police Department To Motorists:
Celebrating Thanksgiving? Buckle Up and Drive Sober
This Thanksgiving, the Melrose Park Police Department is joining the Illinois State Police and local law enforcement to ensure holiday travelers are buckled up and driving sober with a "Click It or Ticket" and "Drive Sober or Get Pulled Over" enforcement campaign that runs November 17 – 27th.
"Thanksgiving means more vehicles on the road – and an increased risk of crashes," said Deputy Chief Anthony Greco. "No matter how long or short your drive, remember to buckle up and make sure children are in a safe seat. By buckling up and making a plan for a sober ride home, you help everyone have a safe and happy holiday."
The goal of this high-visibility effort is to reduce motor vehicle crashes, injuries, and fatalities. Proper seat belt use is the most effective way to protect vehicle occupants. According to IDOT, the statewide seat belt usage rate has room for improvement at 92.9%.
If you'll be celebrating with alcohol or other impairing substances, please remember:
Plan for a sober ride home before you go out.
Call a taxi, take mass transit, or ask a family member to get you home safely.
User your favorite ride-share service, such as Uber or Lyft, or take public transportation.
If you see a drunk driver, pull over safely and call 911.
Make sure everyone in your vehicle wears their seat belt. It is the best defense against an impaired driver.
The Thanksgiving enforcement effort is made possible by federal traffic safety funds administered by the Illinois Department of Transportation.
___________________________________________________________________________________
Introducing the 24 PetWatch Microchip Reader at the Melrose Park PD
The Cook County Animal and Rabies Control had recently presented a class for police agencies to help pet owners in the recovery of their animals implanted with microchip. By participating with this program, the police department was provided with a microchip scanner to check if the animal has been registered with a microchip. If registered, the animal's owner information can quickly be recovered and be notified for return as soon as possible. Animals without microchip will immediately be transported to the Animal Care League in Oak Park, in partnership with our department.
This department scanner is compatible with common microchip types and will provide their unique microchip identification number which can then be entered in a database with animal registrations. The registered animal's pet owner will then be notified by email, telephone and text message that the animal has been recovered, including a message regarding medical information.
The department scanner service will be available at the station front lobby Monday through Friday, between 8:00 am and 4:00 pm. Information about the 24 PetWatch pet registries can be made through 24Petconnect.com and mypethealth.com website. To sign up for the Animal Care League updates, events and pet of the week postings, you can visit the animalcareleague.org website.
Melrose Park PD Records Clerk Liz Rodriguez, CSO Suleima Valle and "Bronco".
___________________________________________________________________________________
Parking Restrictions
Effective November 1, all parking restrictions will be enforced. This includes, but is not limited to –
No overnight parking in Winston Park or West Melrose
No overnight parking on East and West streets
And alternate sides of street parking per street parking signs
Again, these parking restrictions will be strictly enforced and tickets will be issued.
___________________________________________________________________________________
Summer Weekend Parking
Summer weekend parking begins Friday, April 1st, and will be in effect until December 1st.
Summer weekend parking allows you to park on BOTH sides of the street on the weekends from Friday at 5 pm until Monday at 9 am.
Summer parking is ONLY permitted in the central area of Melrose Park, it does not apply to the Winston Park area not West Melrose Park area.
If you should have any questions regarding the summer weekend parking, you may call the Police Department nonemergency number at –
708-344-8409 – 24 Hours a day
___________________________________________________________________________________
Animal Care League's Pets & People Support Program
Animal Care League's Pets & People Support Program has been set up to keep pets with their people and out of the shelter system. Our new program will offer pet food & supplies to seniors (60+) and those experiencing a financial hardship within our service area. For our first 200 care packages we will also be adding in some PPE (hand sanitizer, masks and wipes) as well as a produce box (donated by Beyond Hunger).
To request a supply/care package –
https://forms.gle/RN5GqXv9zU5c2pKL6
Resources –
Pets & People Support Program Info Sheet
___________________________________________________________________________________
LOTTERY LETTER SCAM
Dear Melrose Park Residents,
Be aware of Lottery Scams. These letters are being sent through emails or US Mail claiming you are a winner of the Powerball or Mega Millions. These letters are usually sent from foreign countries with fake contact information. If you receive these letters please DO NOT respond or take any action as the letter instructs you to.
Notify our Police Department and a report will be taken on the matter. At any time you feel you are being scammed it most likely is a scam and always remember to use common sense.
If you have any questions concerning this issue call the Melrose Park Police Department non-emergency at 708-344-8409.
Sincerely,
Sam C. Pitassi
Director of Police
Sample:
___________________________________________________________________________________
UNOFFICIAL WATER UPDATE NOTICE
There have been reports of the following notice left at some residencies.
NOTE: This is NOT affiliated with the Village Of Melrose Park.
___________________________________________________________________________________
BEWARE UNEXPECTED CHECKS IN THE MAIL – SCAMMERS TARGET ANYONE
Take a look at the check that Melrose Park PD received in the mail recently.  The only problem… this is a counterfeit check.

How it Works: 
Scammers send checks in the mail.  They usually ask at the time of delivery, or in a follow-up message/letter that you deposit the check into your account, and then send back a portion of the amount via your own check or wire transfer.  In this case, the scammer sent the check in a United States Postal Service priority mail envelope.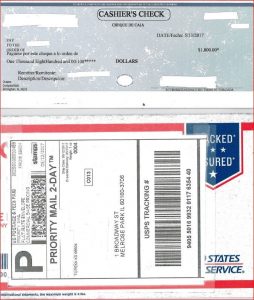 The Problem Is:
The check or money order that you receive and deposit will turn out to be counterfeit.  The counterfeit check will be returned to your bank without funds, and you will be charged the full amount.
Your Account, Your Responsibility:
Any check or money order that you deposit into your bank account is your responsibility.  Should the check be returned as unpaid, you will be stuck with the charges.  Because of federal law, banks must make deposited money available within 1 to 5 business days.  This means that it is possible for a person to withdraw funds from their account after unknowingly depositing a counterfeit check.  It can sometimes take weeks for a check to be returned to your bank as unpaid.  When that happens, the person that deposited the check into their account is responsible for the charges.
What You Should Do:
As the saying goes… "If it seems too good to be true, it likely is."  If you receive a check like this in the mail, you should not deposit it.  You should shred the check so that it isn't mistakenly deposited later.  BEWARE- Scammers can be very persistent.  If you are contacted via electronic communication, block the scammer.  If the scam is on an internet website, report the scammer to the administrator of the site.
If you have any questions contact the Melrose Park Police Department.
Useful Links:
There are numerous ways that people may try and scam you out of your money.  Here are some helpful links with tips on how to avoid being scammed.
https://postalinspectors.uspis.gov/pressroom/schemealerts.aspx
https://postalinspectors.uspis.gov/pressroom/videos.aspx
https://postalinspectors.uspis.gov/pressroom/pubs.aspx
___________________________________________________________________________________
MELROSE PARK POLICE OFFER SAFE DISPOSAL METHOD FOR PRESCRIPTION DRUGS
The Melrose Park Police Department has partnered with the Cook County Sheriff's Office to offer residents a safe and convenient method for disposing of unused and unwanted prescription medications. These types of drugs pose a danger within the home. They may become the source of an accidental poisoning or overdose. According to the U.S. Department of Justice, most abused prescription drugs are obtained from friends and family. Disposing of these drugs by throwing them in the trash or flushing them down the toilet may pose health/safety and environmental risks.
In order to provide a preferable alternative for the disposal of these drugs, a secure collection box has been placed in the lobby of the Melrose Park Police Department. "Our residents may now safely dispose of unwanted drugs by simply placing them inside of the collection box in our station," stated Director of Police Sam Pitassi. "This is another way we can assist our residents and promote drug safety within the home," said Pitassi.
The secure collection box is available to residents for unwanted medications 24 hours a day, seven days a week. Please do not place garbage, food, bio-hazardious waste or sharps in the collection box. If you have any questions, you may call the police desk at 708-344-8409.
___________________________________________________________________________________
OFFENDERWATCH NOW COVERING MELROSE PARK
Our office is pleased to provide OffenderWatch® for the citizens of Melrose Park. OffenderWatch® is the nation's leading registered sex offender management and community notification tool with hundreds of leading agencies in dozens of states utilizing it. Melrose Park's law enforcement utilizes OffenderWatch® to manage and monitor the whereabouts, conduct and compliance status of the registered offenders in Melrose Park. OffenderWatch® provides the most accurate and timely information available and now this information is available to you!
___________________________________________________________________________________
___________________________________________________________________________________
Freedom of Information Act
Under the Freedom of Information Act (5 ILCS 140), records in the possession of public agencies may be accessed by the public upon request. The Act defines a public record as, "all records, reports, forms, writings, letters, memoranda, books, papers, map, photographs, microfilms, cards, tapes, recordings, electronic data processing records, electronic communications, recorded information and all other documentary materials pertaining to the transaction of public business, regardless of physical form or characteristics, having been prepared by or for, or having been or being used by, receiced by, in the possession of, or under the control of any public body."
Some records are, however, not subject to release via the FOIA process. These types of records are described under 5 ILCS 140, Sections, 2.15, 7, and 7.5. Some records may also be subject to provisions imposed by other state statutes. The FOIA process for disclosure of information does not supersede other applicable statutory and judicial mandates.