Coronavirus (COVID-19) Updates
_________________________________________________________________________________________
12-1-20
FREE COVID-19 TESTING AND FLU SHOTS IN MELROSE PARK
The Village will be doing drive-thru COVID—19 testing again on Saturday, December 5th & Sunday, December 6th from 9AM to 3PM in the parking area at 2701 W. Lake Street.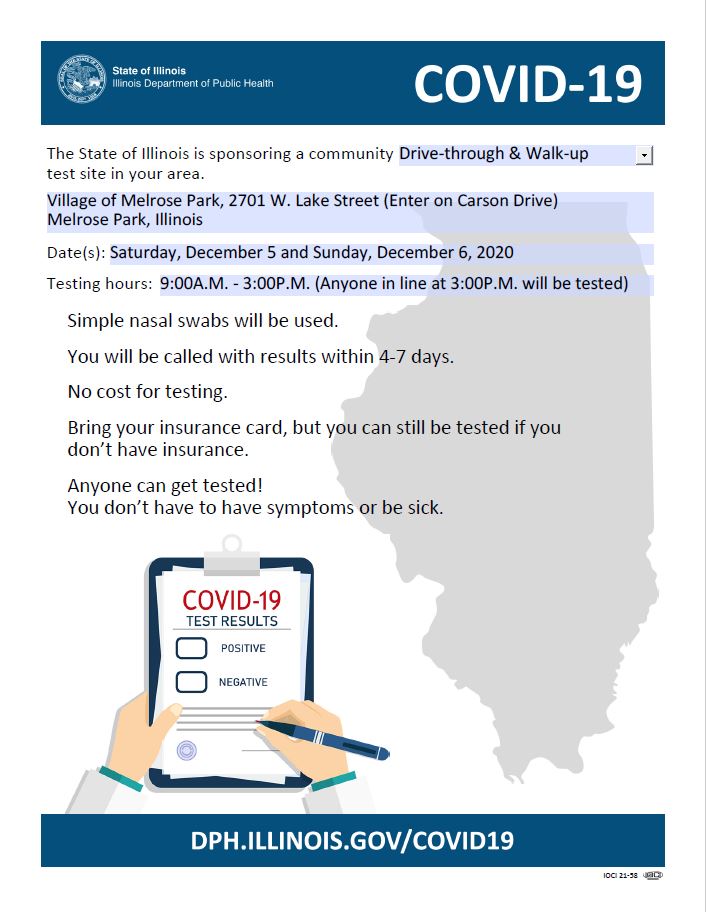 There will also be additional Covid-19 Testing Saturday, December 5th, from 10AM to 12PM at the Jalisco State Office, 1600 W. Lake St.
There will also be a drive-thru Flu Shot Clinic again on Friday, December 4th from 9AM to 11AM in the parking area at 2701 W. Lake Street.
_________________________________________________________________________________________
9-29-20
HALLOWEEN 2020 UPDATE
(updated 10/8/20)
It is with the utmost importance that we keep the health and safety of our residents in the Village of Melrose Park in the forefront during this current pandemic. As we approach the Halloween season, Melrose Park will be following the Center for Disease Control and Prevention (CDC) guidelines by limiting some traditional Halloween activities which can be high-risk for spreading viruses. This includes a ban on participating in traditional trick-or-treating where treats are handed to children who go door to door.
Therefore, since Trick or Treating will not be permitted this year in Melrose Park due to the pandemic, there will be safer, alternative ways to participate in Halloween that will be offered. The Village of Melrose Park has partnered with some of our community organizations, including the Community Alliance, Veterans Park District, and the Melrose Park Youth Commission to help create free low to moderate-risk Halloween activities for the children which are allowable under the Restore Illinois' Phase 4 guidelines.
These activities for children include the following:
Zombie Walk on Friday, October 23, from 6pm-8pm at Bulger Park, 1601 Hirsch Street. This family-friendly Halloween fun for children will include safe strolls in the park to view scary zombie scenes, goodie bags, balloon artist, and giveaways! Wear a costume and face covering. Visit Facebook.com/vpdparks or www.vpdpark.org or call 708-343-5270 for additional information.
Drive-Through Halloween Parade on Saturday, October 31, from 12pm-2pm, at the Melrose Park Civic Center, 1000 N 25th Avenue. Decorate your car, wear a costume, and drive through to pick up a goodie bag. Visit Facebook.com/melroseparkil or www.melrosepark.org for additional information.
Please be sure to "Like" and "Follow" the Village of Melrose Park Facebok page and visit our website for Halloween program updates. Let's do our part and make sure we have a safe Halloween experience for our community.
Sincerely,
Ronald M. Serpico
Mayor of Melrose Park
_________________________________________________________________________________________
NOTICE TO RESIDENTS REGARDING POLICE STATION
The Melrose Park Police Department is implementing additional health and safety precautions to help protect our residents and employees from the community spread of the coronavirus (COVID-19).
The following protocol will go into effect immediately and will remain in effect until further notice:
HIGH PRIORITY / EMERGENCY CALLS
Melrose Park Police Department will only be responding to high priority/emergency calls, including, but not limited to:
All violent crimes or crimes against persons
All motor vehicle crashes
All disturbances and unwanted subjects
All in-progress custody disputes
All unknown situations
All retail thefts wherein a suspect is being detained
A battery or domestic-related incident either in-progress or where the suspect or offender is still on scene
Burglaries where evidentiary items need to be collected or the crime scene needs to be processed
And situation where the shift supervisor(s) deem it necessary for a police officer to respond
LOW PRIORITY CALLS FOR SERVICE
Low priority calls involving non-emergencies, delayed calls for service, informational calls, property crimes, or ordinance violations will only be handled via phone-in report process.
DO NOT ENTER THE BUILDING
If your request for service needs fall within the low priority calls for service category
If you have a fever or had a fever within the last 24 hours
Traveled outside of the United States within the last 14 days
Or if you are experiencing flu-like symptoms, a cough, a sore throat, or shortness of breath
PLEASE RETURN HOME AND CONTACT OUR DISPATCH CENTER AT 847-451-8000
Please remember we are committed to serving our citizens and visitors, but in order to do this on a continual basis we have to make sure our officers and staff remain healthy. We are taking these extraordinary steps as we are experiencing extraordinary times. At this time, the implemented safety precautions are necessary to minimize any health risks to our employees, our community and especially most vulnerable to COVID-19.
Coronavirus (COVID-19) Notice 3-23-20
_________________________________________________________________________________________